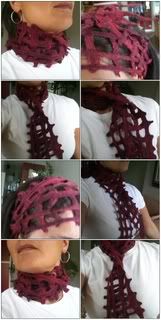 I handmade it thinking I was making just a neck warmer, but a costumer bought it to used it as a belt, my daughter loves it as a headband and you can also used it as a piece of jewel.
Felted Merino Wool
***********************************
Quando estava fazendo essa peca, pensava que fosse sair um simples cachecol mais fino e curto, mas uma cliente comprou para usar como cinto , minha filha coloca na cabeca... ou seja tem mil e uma utilidades, de acordo com o seu humor do dia!!!!